Discover more from The Snow Report
Leveling up at work and in life. Storytelling, problem-solving, and leadership skills—with Dream Teams author Shane Snow.
Over 48,000 subscribers
Workers are more likely to do poorly if their managers do this...
Hey, it's Shane again! This is the 2nd message in my email mini-series about how you can transform your work habits (or your team's work habits)—especially if you are working remotely or managing remote teams!

WHILE DOING research for Dream Teams, I came across a statistic from Gallup that said that workers were more likely to do poorly if their managers ignored them than if their managers mainly focused on their weaknesses…
Being ignored was worse than being criticized!
I found this curious, and dug a pretty deep rabbit hole to learn about the damaging effects that exclusion, organizational silence, and superficial communication have on relationships—at work or in life in general.
My observation: Ignoring people makes for bad individual work performance.

My question: How does exclusion affect companies' overall results?

My hypothesis: Excluding people decreases the likelihood of producing breakthrough innovations or novel solutions to problems inside of a company.

My experiment: I decided to launch a poll of American workers at fast-growing, innovative companies, and pit them against workers at slow-growing, non-innovative companies.

Results: I exported the poll data into Tableau, which spat out this chart for me (which we then re-formatted for the book):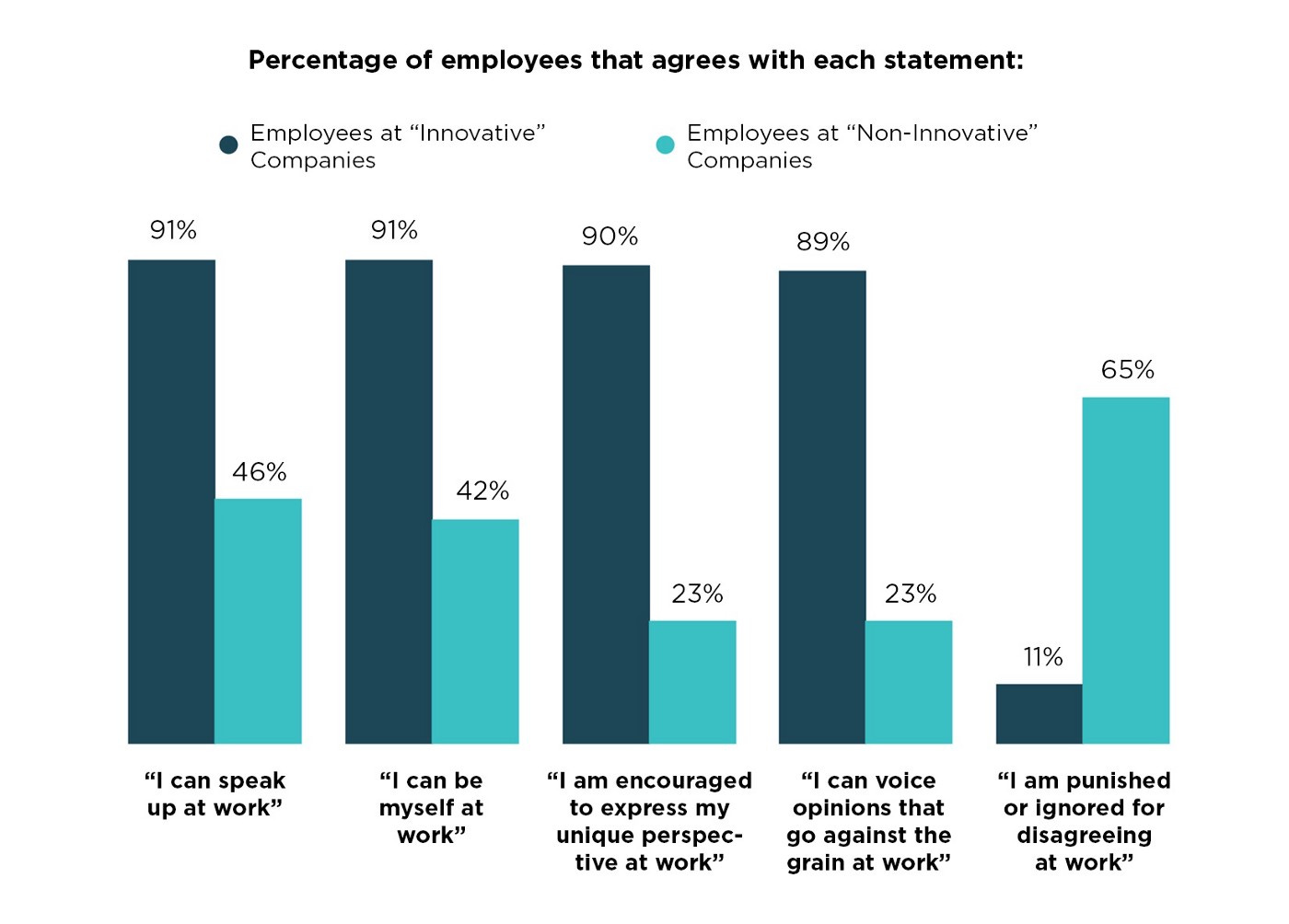 The conclusion is dramatic:
The more you let someone be themselves at work, the more you allow them to participate from their different points of view, the more likely the company will be fast-growing and innovative.
If you're suddenly starting to work with team members who are working from home, a good manager is likely to have a strong tendency to want to provide structure and rules—when do people need to be available, how do you need to manage projects, what are the new policies and procedures, etc.
But it turns out that despite good intentions, this kind of mindset is likely to backfire.
What you need to do—if you want to turn this situation into an opportunity for innovation—is embrace the flexibility that remote work offers.
That means a few things:
Use this as an excuse to throw out rigid rules and procedures in favor of Freedom + Accountability.

Use this as an excuse to learn and start using technologies that are more flexible by design. E.g. Whatsapp, Slack, Evernote, Zoom, Microsoft Teams, Trello, Contently. These are built for people to use their own custom way, versus tools that force you to work one rigid way.

To compensate for replacing a mindset of process rigidity with flexibility to work how you work best, focus on everyone on your team having fuller access to information. Swap your "how to work" processes out for a "where to put information that's important" procedure. Different people, if they know what they need to know in order to make good decisions, can work differently than each other and be more effective than before.
But how do you begin to adopt this sort of mentality—or these sorts of tools—when it's scary?
And trust me, this kind of change is scary.
There are some great tools and advice out there that I'd love to share with you to answer that question. But before you even get down to the tactics, there's an underlying principle you should learn first, which can help to make all the difference. A virtue—really.
I'll tell you exactly what that virtue is in my next note… look for another message from me tomorrow!
Much love,
Shane